Overview
Spanning over multiple decades, Judith has had an illustrious music teaching career which has taken her around the world, and seen her inspire many of her students to achieve fantastic feats in the world of music. Now retired, Judith has continued to teach piano to students of all age groups and experience levels in her own house.
In order to attract more students and make the local people aware of her teaching piano classes, Judith decided that she needed a website with a fully functioning enquiry form for people to easily get in and book lessons. The result was a highly professional website which concisely delivers information about her teaching services, and receives regular enquiries from potential students.
Deliverables
Multi-Page Website
Copywriting & On-page Search Optimisation
Imagery Advice and Resizing
Domain Registration and Hosting 
Mobile Responsive
Google Analytics Set Up & Integration
WordPress Training 
Ongoing Support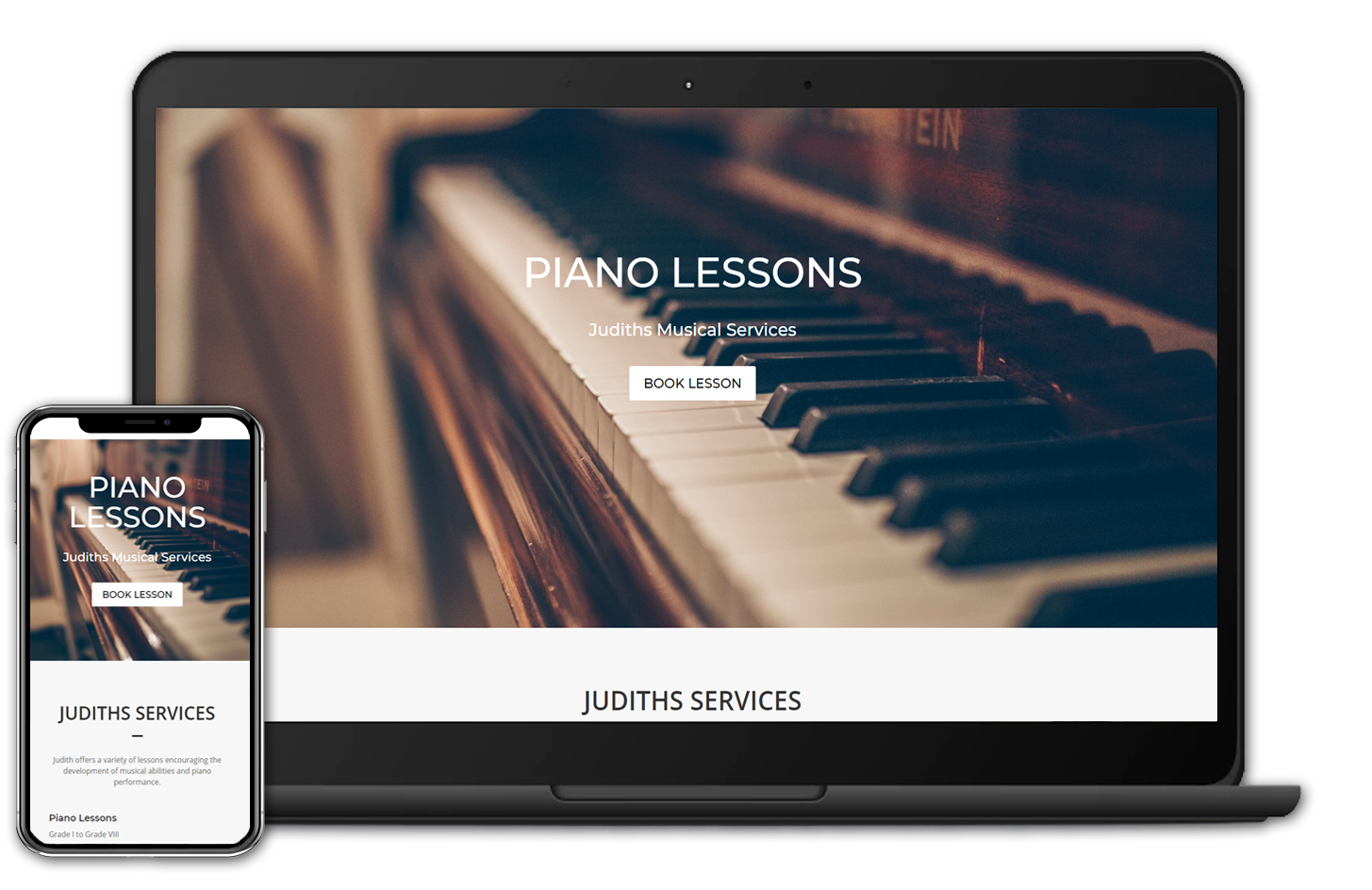 Challenge
Judith has a wide range of musical services that she can offer to students, therefore, the challenge was to identify the most relevant teachings and display them in an easily digestable way on the website. In addition to this, some of the images used date back to pre-1960 and so careful image edits were required for them to ensure a high quality and professional appearance.
Solution
I worked closely with Judith to establish the key services and how we could create the most effective layout on the page. Similar to her musical services, Judith's career experience is also expansive, and so I also worked with Judith to pick out a few highlights from her career which the user would find engaging. 
Website design
Judith's Musical Services
Website Design
Judith's website is a 'one-page website'. This was chosen to help with reducing the time it takes for the web user to see the enquiry form once they land on the page. Additionally, the 'Book Lesson' button was also placed front and centre to encourage the user drop down to the form if they didn't have time to rest of the text. The result of this has been regular monthly enquiries for Judith's teachings, to the extent where Judith has to turn pupils away due maxed out lesson slots. She is extremly happy with the site, and suits her needs perfectly.
Alex has been a great support to me since we began. He has helped me get online to offer my music lessons to more people in the local area. I receive many enquiries per month from potential students, to the point where I'm now fully booked up most of the time! Fantastic job!